About Imaging Solutions
Our customers vary in size from the small operation with one or two duplicator presses, to the multi-million dollar accounts with five, six, and eight colour presses. They also range in location from South America all the way up to Bermuda.
In order to cover such a large geographical area, we have a network of associated offices in Barbados, Jamaica and The Dominican Republic, with technical resource staff in each location.
Our Technical Support
We have invested in a Bomgar appliance which allows us to give cross platform support. All communication between the clients' equipment and our support terminals is fully encrypted. Because we use an in-house Bomgar appliance, your data does not pass through a third party server. We know that security is critical when dealing with accounting data or yet to be published news stories.
Our remote support system has significantly reduced the need for us to physically be on site. This has dramatically increased our reach while substantially decreasing the response time to a problem.
Commitment to our Market
Imaging Solutions was founded in 1995 to serve the Printing and Publishing industry. We recognise that focus is key to our goal of unequaled service. We are not just another general distribution company, we live and work in the market of print and publishing.
Our Technical staff are all factory trained and certified. It is our policy not sell a piece of equipment unless we have the technical resources to support it.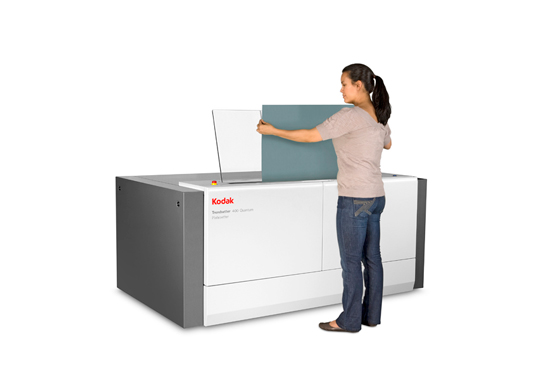 Kodak Computer to Plate Systems
Kodak invented thermal CTP plate technology in 1995 and have been committed to delivering innovative digital plates ever since. On January 31, 2005 Kodak acquired Creo, the leader in thermal imaging equipment and creator of Prinergy Workflow software
With the best of breed in Plate technology, imaging equipment and Workflow, Kodak has since captured the most significant market share of quality conscious Printers.
Trendsetter - the workhorse CTP
The Trendsetter line of CTP equipment has proven itself in high quality, high volume and other demanding environments.
The Trendsetter with Autoloader allows the operator to load up to 50 Plates and walk away. The machine will image continuously until the plates are exhausted.
Sonora Plates - leading the way to Eco Friendly printing
Sonora plates are the third generation of Processor free plates created by Kodak. These plates develop directly on the press, with no requirement of a washout system or gumming. Plates go directly from the CTP device to the press.
Fiery ® XF Proofing
The Future-proof Investment When colour Quality and Productivity Matter.
Fiery ® XF Version 5, the flexible and scalable precision RIP and colour management workflow for proofing, package prototyping and fine art printing, streamlines your print production with customizable automated workflows from job creation to proofing and verification. Accurate colour management by measurements, with advanced spot- and process-colour optimization, enables you to easily achieve precise, predictable and repeatable contract proofs. Automated workflows eliminate touch points and remove the need for manual job submission, saving operators time and reducing error rates. A fully customisable user interface allows you to tailor the application to each operator's tasks and skill set.
Precise, Predictable and Repeatable Contract Proofs
Advanced spot- and process-colour optimization, removes the need for time-consuming trial and error colour profile correction or complicated device link profiles and gives you best possible colour output each and every time. The colourimetric estimation of spot colour accuracy for specific printer/ media combinations enables a data-driven printer/media selection for the best match, and clear colour communication by the numbers. Support for HKS, TOYO, PANTONE® and the PANTONE Plus library, with 336 new colours, ensures the best possible reproduction, no matter what spot colour the designer picks. Fiery XF comes with hundreds of pre-defined profiles for specific media and printer combinations for instant results out of the box. To achieve even greater precision and flexibility, combine Fiery XF with the colour Profiler Option to create precise media or reference profiles, including device links. In addition, a sophisticated visual editor provides a true WYSIWYG experience and makes visual colour profile editing a breeze.
Ahead of the Curve with the Latest Industry Standards
To minimize the differences between Xrite measurement devices and to ensure highest data exchange quality, all Xrite and EFI devices make use of the new XRGA standard. Implementation of M0, M1 (D50) and M2 (UV cut) measurement modes allows ISO 13655-compliant measurements for the best colour match under the latest industry-standard viewing conditions. Coupled with the Fiery XF's new Ambient Light Adaption, this offers a perfect match in the final viewing environment. Fiery XF Proofing Version 5 includes the colour Verifier Option that allows you to certify proofs compliant to industry standards like ISO, G7 or FOGRA PSD as well as user-defined standards. This Option also supports job optimization based on standard wedges, or the EFI Dynamic Media Wedge that monitors all image relevant spot- and process-colours like flesh tones or spot colours to ensure colour consistency.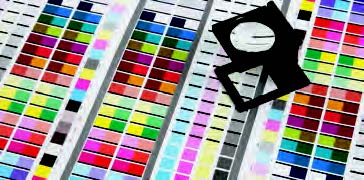 Improve Compatibility and colour Communication with Customers and Vendors in your Supply Chain
Over 70,000 registered EFI inkjet RIP licenses worldwide mean your Fiery XF system will be compatible with the largest user base in the industry, which makes colour communication and exchanges of profiles, base linearization and parameters with the complete supply chain easier than ever. Plus, this large base of experienced users facilitates fast staffing and training. Fiery XF contains a remote-proof container functionality that allows you package all print-relevant job parameters and send them to any of the tens of thousands of installed sites to enable accurate remote proofing worldwide. You can even fully automate and monitor this process with Fiery Web Control Center.
Technology that Makes the Difference
The Fiery XF print driver technology eliminates artifacts and ensures smooth and consistent quality on more than 450 supported printers — from desktop to super-wide format. User-selectable print modes allow you to use different ink sets and screens, providing the best possible output behavior for fine-art photo prints, contract proofs, packaging prototyping to high-end half-tone simulation.
The highest level of file integrity, exact handling of transparencies, overprints and handling of all PDF codes created by Adobe® products is ensured due to the integration of the latest Adobe PDF Print Engine version 2.6 and passing industry's toughest PDF tests speaks for itself.
Flexible, Scalable and Future-proof Investment
An EFI software maintenance and support agreement, included for the first year with your purchase, provides an ongoing stream of software releases, including the latest device drivers, plus all minor and major product upgrades, at a consistent and cost-effective charge. As new industry standards, reference colour space definitions, and measurement devices become available, you receive support for this ever-changing world of colour management technology as part of the renewing software maintenance contract. The modular software architecture of Fiery XF allows you to add options such as print drivers or advanced colour features to grow according to changing business needs.
Prinergy Workflow Software
The most advanced workflow solution just got better.
PRINERGY Workflow 8 focuses on integrating the production planning process and reducing the time spent by customer service representatives, production planners, and prepress operators in preparing optimized production plans. The result is tighter quality control, fewer manual touchpoints and lower production costs for both digitally and conventionally printed jobs.
PRINERGY 8 is the hub of an automated, integrated prepress workflow, which includes KODAK PREPS Imposition Software Version 8, KODAK colorFLOW colour Software Version 2, and KODAK INSITE Prepress Portal Version 9. This next generation of solutions will continue to deliver efficiency improvements and cost reductions throughout the production cycle.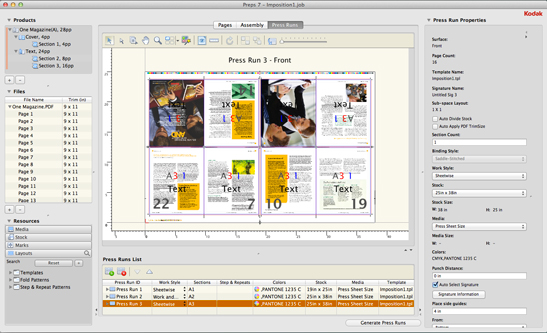 PREPS Software Ver. 8 brings automated imposition to new levels of productivity, with features like:
Faster, smarter, template-based impositions—a new template search tool, new SmartMarks options, and an improved Mark Rules Editor Improved production reporting on colours, dimensions and equipment specified for the job
Packaging enhancements including enhanced step-and-repeat for packaging applications, and an interface that uses packaging industry terminology
Completely integrated—within PRINERGY Workflow 8's new Workspace interface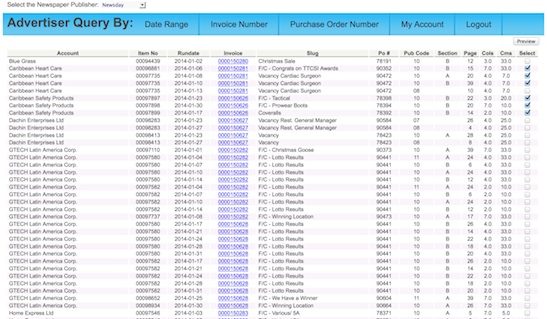 Electronic Tearsheet @etear.net
ISS now celebrates 5 regional newspapers using our electronic tearsheet system.
Invoices are delivered via email and are also available online as PDF files. Each invoice has a live link that will allow the recipient to click and go directly to online proof of publication. We have also just celebrated seven years of running our Amazon EC2 Based, SAAS etear.net Electronic Tearsheet system.
Etear.net is run as a SAAS, allowing the publisher to start quickly with no large up front investment. Since the software is web based there is no software roll out to manage, and the intuitive interface translates to a short learning curve.
The browser based application at etear.net allows authorized Advertising agencies to search by Publication Date Range, Invoice Number or Purchase Order Number.
All of this is done without downloading and installing any software on their own computers. The Etear API also allows integration with any booking system that can generate a comma or tab delimited list of the booking information so that ads can be resolved to a specific page. Optionally, the system can also generate PDF invoices with embedded links to the etear.net site